The Big Picture of Our Curriculum by Topics
During a school year, children are immersed in a number of topics that weave together to form our integrated curriculum.
Although there are huge differences between the delivery and outcomes of our topics, the principles (intent, implementation and impact) generally remain consistent:
Differences from topic to topic:
Topic Length – From 2 week long mini-topics to topics that last a term.
Topic Purpose – A clear aim / vision for the topic.
Topic Hook – An activity / experience at the start of the topic to inspire the children and increase engagement in future topic learning.
Topic Outcome – An activity / experience at the end of the topic to motivate the learners during the topic, give relevance to the learning and provide the children with the opportunity to reflect.
Subject coverage – Whilst we ensure that the national curriculum subjects are taught across the school year, each topic is centred on a handful of foundation subjects. This ensures depth of learning within the curriculum.
Key Performance Indicators – From the handful of subjects taught through each subject within a topic, our teachers and leaders identify one or two key performance indicators for each subject. This ensures depth learning and assessment opportunities.
Similarities by topic:
Great teaching and learning from topic to topic involves broadly identical implementation and positive impact indicators. Therefore, across the topics that make up our curriculum, similarities include:
Consistent principles – e.g. Topic purpose, hook, outcomes, depth of learning, key performance indicators etc…
A knowledge engaged curriculum.
Implementation of school values.
Implementation of our 10 key principles for teaching and learning.
Teaching through an integrated curriculum.
Using over-arching principles, eg oracy and health/well-being.
Developing learning behaviours.
High attendance and punctuality.
High outcomes – demonstrating skills, knowledge and understanding.
High quality and bespoke professional development opportunities.
Thorough self-evaluation.
Ambitious and focused school improvement.
As an example, here is the Big Picture of the Unique You and Marvellous Me KS1 Topic: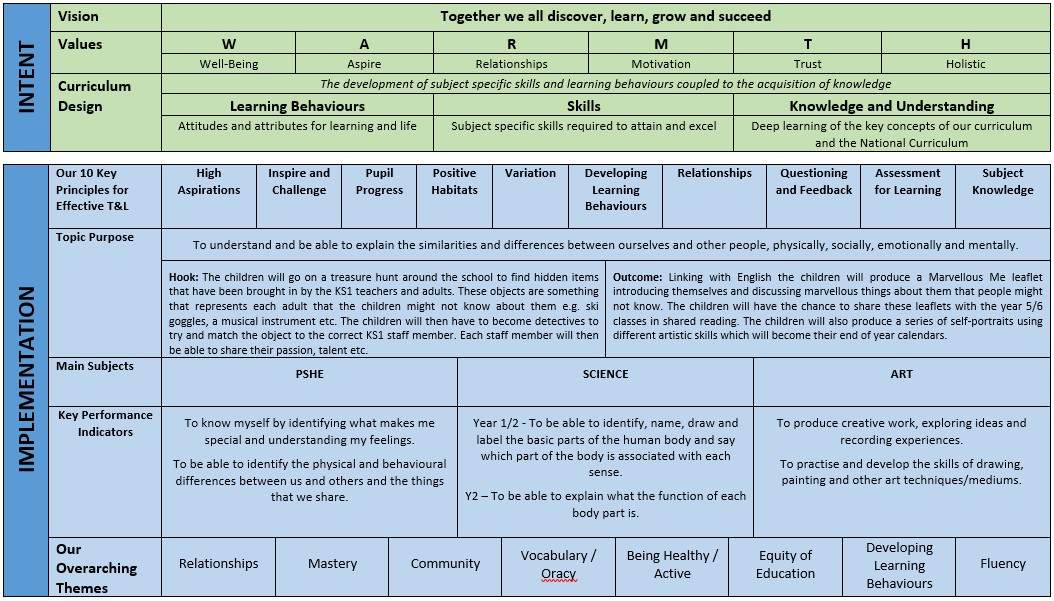 Hyperlinks below to Topic Big Pictures:
Foundation Stage

Year 1

Year 2

Year 3

Year 4

Year 5

Year 6