Primary School Swimming Gala - 2 March 2020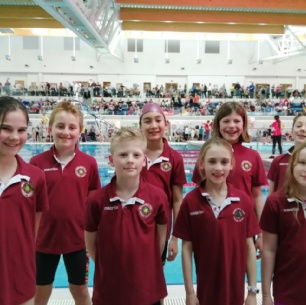 Boys retain the trophy....
On Monday Woodlands Park entered 2 Year 5/6 teams into the Primary Schools Gala held at the Life Centre. It was a very well attended event with 24 schools sending up to 4 teams to compete. The boys were first to take to the pool in the 25m freestyle relay. They won their heat convincely each putting their all into their lengths achieving an impressive time of 1:14.17. Next it was the girls turn who again rose to the challenge and swam their fastest getting a time of 1:19.82. Both teams were so happy to hear that they had made the finals and were eager to race again. The boys went first and had to really dig deep as they were up against strong competition. The final touch at the end was so close with 1:13.90 but we didn't know the outcome and had an anxious wait for the results to be announced once the girls had raced their final. All swimmers supported each other, cheering on their team and encouraging each other which was lovely to see and were all ecstatic when Woodlands was announced as having won the boys race and retaining the trophy for a second year running!