Year 5 Playleaders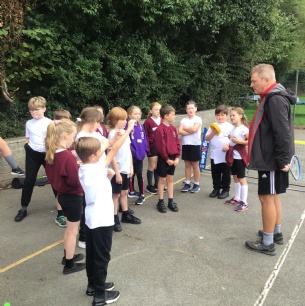 On Friday, 20 of our Year 5 children were given the wonderful opportunity to train as playleaders!
They worked with Mr. Robinson from Arena to develop their understanding, knowledge and skills of what a leader is and think about how they want to develop as leaders.
The children took part in a variety of theory and practical sessions where they had to plan, lead and then evaluate a variety of different games that could be used in the playground.
The children collaborated really well, building on their communication and listening skills and well as giving feedback to their peers on what went well and how they could improve.
The children will now work together to start to organise and implement games based activities for all the other children at break and lunch times.
Thank you to Mr. Robinson and to the 20 Year 5 children involved for a wonderful day.