Welcome
to the governors' home page: I hope that after reading this you will have a better idea of the role of the governors at Woodlands Park.
So what do the governors do?
The role of the Governing Body is:
• To form close links with the school and to give encouragement and support to the school in pursuit of its aims and objectives.
• To monitor the performance of the school and to oversee the conduct and the content of the curriculum.
• To administer the financial resources of the school.
• To assess the needs of the school and monitor the fabric of the building.
• To represent the legitimate concerns and interests of the pupils, parents, staff in the wider sense, thus serving the school and the community.
• To oversee health and safety in the school.
• To support and celebrate positive developments in the school.
In order to ensure a democratic representation, the governing body at Woodlands Park has members elected by the school's parents & carers, members from amongst the school's staff and in addition, members from the community appointed by the governors themselves.
Governors are all volunteers and come to the governing body with very different skills and experiences, but the one thing we all have in common is our commitment to work with the school and support our school community: children, teaching and support staff, parents and carers. The governing body is accountable for the school's performance and in order to do this we attend a variety of training courses online, face to face and at governing body meetings so that we can become more effective as governors. We talk to pupils, staff and parents about different aspects of the school and report back to the governing body as part of our monitoring role and every decision we make is based on the best interests of the pupils in our care.
Governors hold a Full Governing Body Meeting every month during term time and minutes of the Full Governing Body meetings are available outside the school office - please take the opportunity to have a look at them.
Sean Bruce – Chair of Governors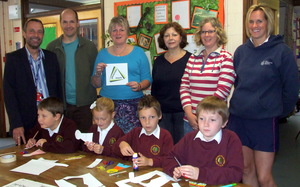 Full Governing Board Minutes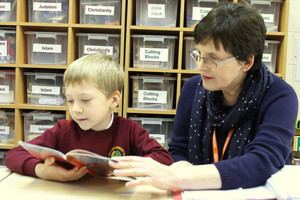 Governor in Action, supporting reading.
Mrs Jennie Rickard - Lead Governor for SEN, Safeguarding & Attendance.